January 2013 Market Update
The national housing market continues to recover as a result of existing-home sales improving with low inventory supply pushing home prices upward. National Association of Realtors (NAR) Chief Economist Lawrence Yun states, "Momentum continues to build in the housing market from growing jobs and a bursting out of household formation. With lower rental vacancy rates and rising rents, combined with historically favorable affordability conditions, more people are buying homes."

NAR President Gary Thomas said there had been speculation of a rise in short sales before the end of 2012 with the pending expiration of the Mortgage Forgiveness Debt Relief Act, which allows the forgiven debt to not be counted and taxed as income. He goes on to say, "There's no movement in short sales, their market share is staying in a narrow range, and they're still taking much longer to sell—typically three months."
There are good signs that 2013 will be a year of recovery for the housing market. 2012 is the first year since 2005 where the year ended in positive territory, and if 2013 is anything like 2006, it could mean we are headed for a strong rebound. There is an urgency to buy now as home prices continue to increase and mortgage rates are at historic lows.
Home Sales
In Millions
Home sales this month increased 14.5% from last year and 5.9% this month to a seasonally adjusted rate of 5.04 million units, the highest level since November 2009. Distressed homes (which include short sales and foreclosures that traditionally sell for 15%–20% less on average compared to nondistressed homes) accounted for 22% of November sales, down from 24% the previous month and 29% last year. NAR Chief Economist Lawrence Yun states, "the market of distressed property sales will fall into the teens next year based on a diminishing number of seriously delinquent mortgages." This is a promising sign, but the amount of distressed properties is still high by historic standards.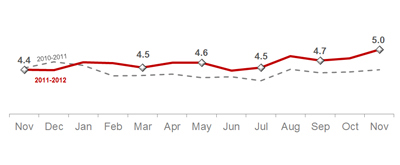 In Thousands
The current median home price rose this month to $180,600, an increase of 2.1% from the previous month and up 10.1% from last year. November marks the ninth consecutive month of year-over-year price gains, which last occurred from September 2005 to May 2006.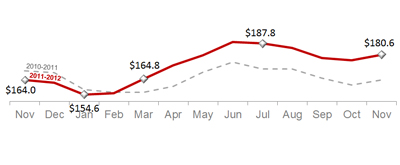 Inventory- Month's Supply
In Months
Housing inventory fell 3.8% this month to 2.03 million existing homes for sale, representing a 4.8-month supply, the lowest housing supply since September 2005. An inventory supply of 6 months indicates a balanced market. More than 6 months points to a buyer's market and less points to a seller's market. The current supply is further evidence that the market clearly favors sellers on average across the country.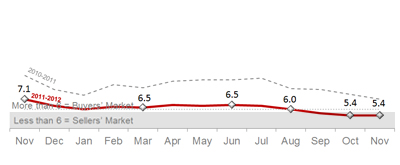 Source: National Association of Realtors
This month mortgage rates are at or around 3.37%, still hovering near record lows. In terms of the monthly payment on a 30-year fixed rate mortgage, a 1% increase in interest rate is the equivalent to a 10% increase in price. Low rates and a rebounding market have put buyers in a sweet spot, fueling urgency to buy now.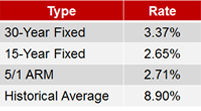 Brought to you by KW Research. For additional graphs and details, please see the This Month in Real Estate PowerPoint Report.

The opinions expressed in This Month in Real Estate are intended to supplement opinions on real estate expressed by local and national media, local real estate
agents and other expert sources. You should not treat any opinion expressed in This Month in Real Estate as a specific inducement to make a particular investment
or follow a particular strategy, but only as an expression of opinion. Keller Williams Realty, Inc., does not guarantee and is not responsible for the accuracy or
completeness of information, and provides said information without warranties of any kind. All information presented herein is intended and should be used for
purposes only. Nothing herein should be construed as investment advice. You should always conduct your own research and due diligence and obtain professional
advice before making any investment decision. All investments involve some degree of risk. Keller Williams Realty, Inc., will not be liable for any loss or damage
caused by your reliance on information contained in This Month in Real Estate.