The national housing market is showing positive improvement. The main trend to call attention to is the seller's market. Home prices continue to rise steadily above year-ago levels, and housing demand has strongly picked up, resulting in low levels of inventory in many regions across the country.
"Tight inventory is a major factor in the market," states NAR Chief Economist Lawrence Yun. "Buyer traffic is continuing to pick up, while seller traffic is holding steady. In fact, buyer traffic is 40% above a year ago." Inventory is low for a number of reasons: Housing demand has picked up, banks have slowed the pace of foreclosures, and many homeowners who wish to sell their homes simply cannot because they do not have enough equity to make a down payment on their next home. However, as home prices continue to rise and more people can afford to sell their homes, inventory levels will increase.


NAR President Gary Thomas claims, "The typical home is selling nearly four weeks faster than it did a year ago." Now marks one of the most favorable times in market history to buy or sell a home. There is an urgency to buy now while mortgage rates are at record lows and before home prices increase more significantly.
In Millions
Home sales this month increased slightly by 0.4% from last month to a current seasonally adjusted rate of 4.92 million units; sales are up 9.1% from year-ago levels. Distressed homes (which include short sales and foreclosures that traditionally sell for 15%–20% less on average compared to non-distressed homes) accounted for 23% of January sales. This figure is down from 24% the previous month, but down from 35% in January 2012. Regardless of the decrease in distressed sales from last year, these properties are still at above-average numbers.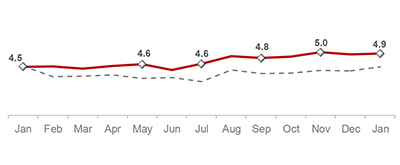 In Thousands
The current median home price fell slightly this month to $173,600, but it is still 12.3% above year-ago prices, marking January as the eleventh consecutive month of year-over-year price increases, which last occurred from July 2005 to May 2006. The increase in the median home price this month over January 2012 is the strongest year-over-year gain since November 2005.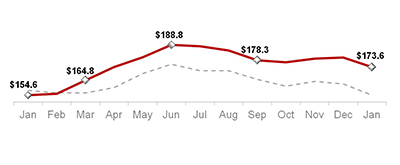 Inventory- Month's Supply
In Months
Housing inventory fell again this month to 1.74 million existing homes for sale, representing a 4.2-month supply—the lowest housing supply since April 2005. When inventory supply is below 6 months, the market is said to favor sellers. This level of supply has not been seen since 2005 offering some of the best opportunity sellers have seen in years.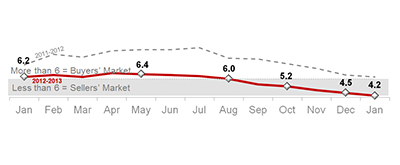 Source: National Association of Realtors
Interest Rates
Mortgage rates are still low, but have risen slightly this month to around 3.56%. Last month, NAR President Gary Thomas stated that even though interest rates should gradually rise as the year progresses, they are still expected to stay below 4% during the first half of the year.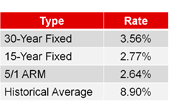 Brought to you by KW Research. For additional graphs and details, please see the This Month in Real Estate, PowerPoint Report.

The opinions expressed in This Month in Real Estate are intended to supplement opinions on real estate expressed by local and national media, local real estate agents and other expert sources. You should not treat any opinion expressed in This Month in Real Estate as a specific inducement to make a particular investment or follow a particular strategy, but only as an expression of opinion. Keller Williams Realty, Inc., does not guarantee and is not responsible for the accuracy or completeness of information, and provides said information without warranties of any kind. All information presented herein is intended and should be used for educational purposes only. Nothing herein should be construed as investment advice. You should always conduct your own research and due diligence and obtain professional advice before making any investment decision. All investments involve some degree of risk. Keller Williams Realty, Inc., will not be liable for any loss or damage caused by your reliance on information contained in This Month in Real Estate

.