As the national housing market recovers we are seeing considerable increases in demand, resulting in a strong seller's market across the country.
Currently, there is more demand than there is supply available, but "the good news is home construction is rising and low mortgage rates are continuing to keep affordability conditions at historically favorable levels," states NAR Chief Economist Lawrence Yun.
"Homes are selling much faster," says NAR President Gary Thomas. "Multiple bidding is becoming more common, and more homes are selling above the asking prices, so buyers need to move quickly." With historically low interest rates and rising demand, there is an urgency to buy now during one of the most favorable times in history to buy or sell a home.
Home sales in March decreased slightly by 0.6% from last month to 4.92 million units. Sales are up 10.3% from year-ago levels, making this month the 21st consecutive month of year-over-year sales unit increases. Distressed homes (which include short sales and foreclosures that traditionally sell for 15%–20% less on average compared to nondistressed homes) accounted for 21% of March sales, which is down from 25% the previous month, and down from 29% in March 2012. Regardless of the decrease in distressed sales from last year, these properties are still at above-average levels.

.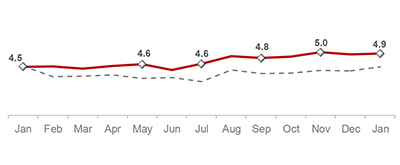 Home PriceIn Thousands

The current median home price increased 6.4% in March to a seasonally adjusted $184,300, which is up 11.6% year over year. March marks the 13th consecutive month of year-over-year price increases, and the strongest year-over-year increase since November 2005.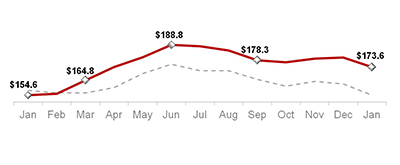 Inventory- Month's Supply
In Months

Inventory levels in March increased slightly by 1.6% to 1.93 million existing homes for sale. The number of homes on the market represents a 4.7-month supply, indicating a strong seller's market. Inventory is down 16.8% below a year ago when there was a 6.2-month supply.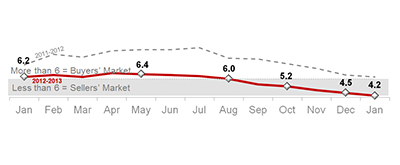 Source: National Association of Realtors
Interest Rates

Interest rates this month are slightly lower from last month, at 3.41% for a 30-year mortgage. Low mortgage rates continue to keep affordability conditions at historically favorable levels.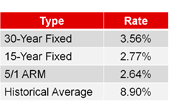 This Month's Video